Prospect Personal Injury Lawyers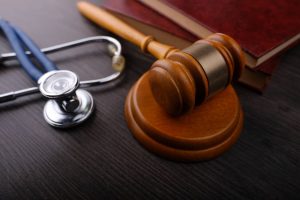 It is unfortunate, but accidents happen. If you were injured in an accident that was not your fault, you may be entitled to compensation from the at-fault party's insurance company. The Prospect personal injury attorneys of Sampson Law Firm understand the financial, emotional, mental, and physical burden that happens after a severe injury.
This can be a challenging time in life. It's important to remember that you do not have to face it alone. We recognize that compensation doesn't change the physical injuries and property loss that you may incur, but it can help to pay medical costs and daily expenses when you're unable to work.
Time is of the essence. You want an experienced and skilled attorney on your side to protect your rights. Call the Prospect personal injury attorneys of Sampson Law Firm today at (502) 584-5050. In your free case evaluation, we can discuss your case and how our experienced legal team can help you get the compensation you deserve.
Why Do I Need a Personal Injury Attorney?
After any type of accident, you must fill out injury claim reports that can feel like an endless mass of paperwork. Sometimes even before the claim is filed, the insurance company can send an insurance adjuster to speak with you.
These are skilled negotiators whose goal is to protect the financial assets of the insurance company. They often come across as friendly and seem like they're on your side. However, they are looking for information that will help disprove your claim.
It is crucial that you do not speak with an insurance adjuster without your attorney present. Your attorney can help prevent you from inadvertently saying something that may negatively affect your case. Insurance adjusters may ask for a recorded statement or offer an early lump-sum settlement.
You can tell them that you would like to give a recorded statement with your attorney present. It's also important to note that the first settlement offer from an insurance company is usually not their best offer and may not be a fair one.
Insurance companies have experienced attorneys and adjusters that represent their rights and protect their financial interests. You should have an experienced attorney protecting your rights, too. The Prospect personal injury lawyers at Sampson Law Firm work hard to protect your rights and get you the maximum settlement for your injuries.
Our Practice Areas
After an injury caused by someone else's negligence, it's important to be represented by an attorney who has experience with your type of accident or injury. There are slight variations in case law that can make the difference between successfully recovering fair damages or not. Our legal team is skilled in the following areas:
Common Injuries After an Accident
Accidents can cause several different types of injuries. These include mental, emotional, physical, and psychological injuries, such as:
Paralysis
Burns
Concussion
Catastrophic injury
Broken bones
Heart attack
Neck or back injury
Whiplash
Amputation
Nerve damage
Kidney damage
Internal injuries
Soft tissue injury
Traumatic amputation
Torn or ruptured ligaments and tendons
Depression or anxiety
Psychological injury, including post-traumatic stress disorder PTSD
What Type of Compensation Is Possible?
Many times, the amount of compensation available in an injury claim is finite and limited by the amount of insurance the at-fault party carries. Depending on whether the accident was caused by a private individual or corporate structure, there can be more than one insurance company involved.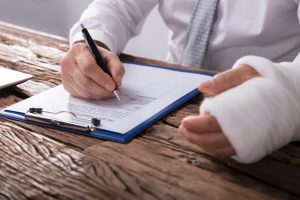 However, even when medical expenses are higher, the insurance company will not pay more. After an accident resulting in injuries, you could be entitled to compensation for economic losses. These are objective costs and include specific charges for which you have receipts.
Medical expenses are one type of economic loss and include every type of medical bill that's related to the injury. For example, prescription medications, medical specialists, physical therapy, and psychological therapy fall under medical expenses. Depending upon the injury, you may also be entitled to future medical care.
If you're unable to work after the accident, you could be owed lost wages. You could be compensated for the time you were out of work because of the injury. If you're unable to return to your previous job, you may also be entitled to help find a new job. If there was property damage during the accident, you may be eligible to recover compensation for it as well.
You may also be owed compensation for non-economic losses, which are subjective. For example, pain and suffering, loss of consortium, loss of enjoyment of life, and emotional distress are all non-economic costs you might've paid due to the accident.
How Much Time Do You Have?
It is crucial that you contact a personal injury attorney soon after your accident. Kentucky has a law that limits the amount of time that you have to file a lawsuit. If negotiations with the at-fault party's insurance company are not successful, you may want to file a lawsuit to recover damages.
However, if you wait longer than one year in Kentucky, you may relinquish your right to pursue compensation through the court system. If you wait until after the statute of limitations deadline has passed to file your lawsuit, it will likely be dismissed.
This means that all negotiations with the at-fault party's insurance company must be mostly completed, and you and your attorney must have gathered enough evidence to support your case in court within one year.
Reclaim Your Life After an Injury
After an accident, it is important to take control of your life. The legal team at Sampson Law Firm recognizes that an injury can turn your life upside down. We also understand that no compensation can make up for the physical injuries and mental and emotional distress that you may have experienced.
However, compensation can pay your expenses and make your recovery a little less stressful. You may feel as though your life is out of control. Yet, we can help you reclaim control, which can have a significant impact on your future.
Sampson Law Firm Is Ready to Help
The Prospect personal injury attorneys of Sampson Law Firm are skilled negotiators, tenacious litigators, and compassionate lawyers who recognize that you have a unique case. We're ready to hear the details and put our experience and skill to work for you. Let us protect your rights and fight for fair compensation. Call our office today at (502) 584-5050 to schedule your confidential consultation and free case evaluation.