Louisville Accident Attorney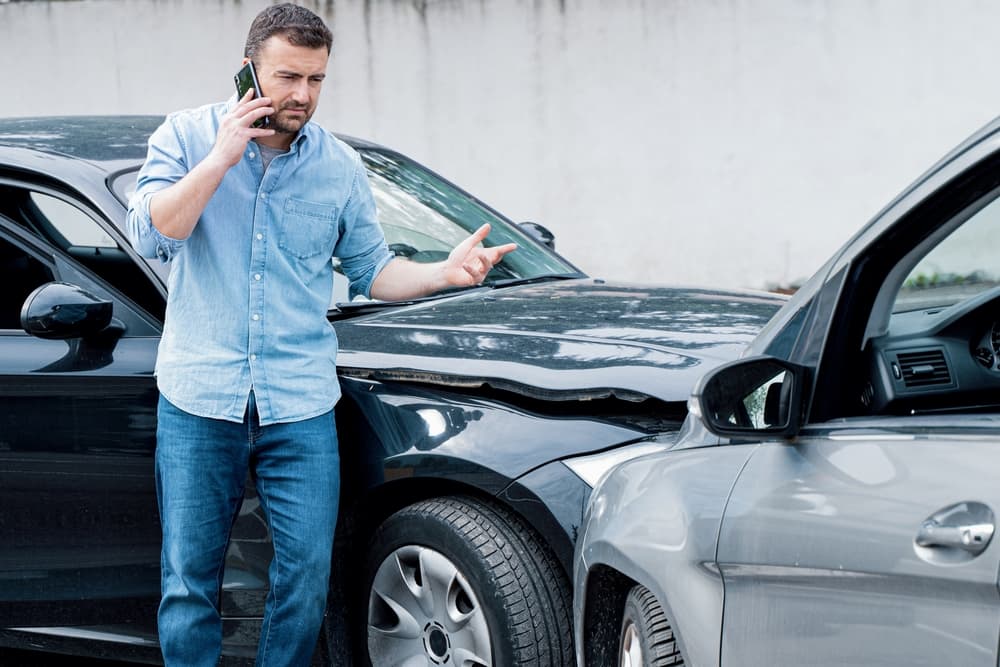 Car accidents are one of the most common and devastating types of accidents that can happen to anyone. They can cause severe injuries to the victim and their families. The immediate effects of a car wreck, such as physical trauma and expensive medical treatment, can be challenging to overcome. But the long-term consequences can be even more traumatizing, including loss of income due to missed work, emotional distress, and permanent disability.
The aftermath of a car accident is often overwhelming for the victims and their families. It is crucial to seek immediate medical attention and legal representation if you suffer injuries or damages due to someone else's negligence. Hiring an experienced lawyer can help protect your rights and secure fair compensation for your losses. Additionally, taking steps toward mental health recovery after a traumatic event like a car accident is essential. Seeking professional help or support from loved ones can help cope with emotional distress and prevent long-term psychological effects.
Car accident injuries can vary significantly in terms of severity, from minor cuts and bruises to traumatic brain injuries and spinal cord damage, but whenever someone else was at fault for the accident, whether due to their reckless driving, a car malfunction, or other causes, injury victims may be entitled to seek compensation. At the Sampson Law Firm, our Louisville accident attorneys believe that people in this situation deserve justice for the undue harm and compensation for the undue losses they have sustained. We protect your rights, not insurance companies, in personal injury cases. Statistics show that car accidents are one of the most prevalent and devastating cases, and if someone else was at fault for the accident, you might be entitled to full compensation. A Louisville personal injury attorney at the Sampson Law Firm will be able to review the details of your case and guide you through the legal process. Complete our online form to get started today.
If you or someone you love has suffered a serious injury, contact The Sampson Law Firm for a consultation with a personal injury attorney. When another person injures someone or loses a loved one, our Louisville car accident lawyers can fight for the financial compensation they need and deserve. If you or your family is struggling after a personal loss, call (502) 584-5050 to find out how we can help.
Why Do I Need a Car Accident Attorney?
Louisville accident attorneys understand the importance of taking the first step after an accident. They specialize in helping accident victims seek justice and compensation for their injuries. They have experience handling personal injury cases and work tirelessly to recover damages for their clients. Suppose you've been injured in an accident. In that case, it's important to consult with an experienced Louisville accident attorney who can help you understand your options, fight for your rights, and achieve a record of success in obtaining compensation for your injuries.
After a serious auto accident injury, it is important to seek medical attention immediately. You may have many questions. How can I pay my medical bills? Who is responsible for the damages? How long will I be out of work? Do I need to hire an auto accident attorney?
As an injured victim of an automobile accident, hiring an experienced and skilled personal injury lawyer is the best way to ensure you receive maximum compensation covering some or all of the accident costs. You cannot get this fair compensation without a lawyer providing legal advice and representing you. On average, people with a personal injury lawyer get three times the amount others who attempt to settle on their get. Let our Louisville personal injury lawyers handle all your paperwork, phone calls with the insurance company, and negotiation so that you can fully recover from your injuries.

Why Choose Sampson Law Firm to Handle My Car Accident Case?
If you need a car accident attorney in Louisville, Kentucky, with years of experience, you have quite a selection of other firms to work with. However, choosing the right attorney can determine the outcome of your case. The Sampson Law Firm has experience and longevity, with nearly 20 years in the Louisville community helping car accident victims. Our firm has the experience to handle complex personal injury cases while obtaining maximum compensation for our clients. We work with experts and medical professionals to get the best possible results for our clients. We will ensure that the insurance company comprehends the gravity of your circumstances. We gather data from the police report, your medical records, and other reliable sources to depict how your life has been affected since the car accident.
Since 1997, the Sampson Law Firm in Louisville has been devoting its time to protecting the rights of injured individuals. Over the years, we have built an active practice and reputation in the Louisville and legal communities for being able to litigate difficult cases aggressively. The Kentucky Trial Court Review has consistently listed Jeffrey T. Sampson among its "Most Prolific Trial Attorneys in Kentucky" over the past decade. The Sampson Law Firm has been a part of the Louisville community for over 20 years. The people we represent are not just our clients—they are our friends and neighbors. We will fight to protect your rights if you've suffered injuries in a car accident.
What Damages Can Be Recovered in a Kentucky Car Accident Lawsuit?
Suppose you are involved in a motor vehicle accident legal case in Kentucky. In that case, it is important to understand the two types of damages recognized by state law: economic and non-economic damages. Economic damages refer to quantifiable expenses such as medical bills, lost wages, property damage, and pain and suffering. On the other hand, non-economic damages are not based on monetary value but rather on how the injury has affected one's life. This can include mental distress or diminished quality of life. Working with an experienced attorney who can help you navigate the legal system and ensure that you receive fair compensation for your losses is crucial. They can assess your case and help you determine the appropriate amount of damages to seek based on the specific circumstances surrounding your accident.
Types of Car Accident Cases We Handle
Not only can car accidents happen due to various causes, but they can also result in several different injuries and complications for those affected by the accident. Remember, you should contact a Louisville auto accident lawyer if you or someone you love were injured in an accident caused by neglect, negligence, or recklessness.
No one should have to pay for the consequences of a car accident that they did nothing to cause. Fortunately, with the help of a compassionate and skilled attorney, many victims do not have to. At Sampson Law Firm, our Louisville car accident law firm is here to assist with any auto accident case that leads to an injury.
What to Do After a Car Accident in Louisville, KY
No matter how careful you are behind the wheel, you may be involved in a car wreck at some point. The moments immediately following a collision are naturally very stressful. Nonetheless, it is important to understand what steps you should take to protect your physical health and your legal standing. If you are ever involved in a car accident, take the following steps:
Stop at the Crash Scene, Call 911 – Get to a safe place and call 911. When you speak to the dispatcher, they will need to know your location, whether or not anyone has been injured, and a general description of the scene. The severity of injuries can vary, so be as clear as possible about any injuries. These details will give first responders a decent idea of what to expect and whether or not they should send an ambulance to the scene.
Render Assistance – If someone involved in the accident is injured, Kentucky Revised Statutes § 189.580 (1) (a) requires you to render reasonable assistance in the form of seeking medical help for them. This often includes calling for emergency medical services.
Exchange information – If you are able, Kentucky Revised Statutes § 189.580 (1) requires parties involved in an accident to exchange the following information: name, address, car registration number, and your driver's license if asked.
Report the Accident – If the police have called to the scene of your accident, you are exempt from reporting your collision. However, if the police did not come to the scene and the accident resulted in damages worth $500, you have ten days to file a police report to the Department of Kentucky State Police. If you decide to file an injury claim, your lawyer will inevitably try to recover this document. In addition to your lawyer, your insurer, guardians of a minor, and you can recover this report.
Collect Evidence – Take pictures or videos of the collision scene if you can. Depending on the situation, visual evidence of the damage from different angles can prove that the other driver was at fault. Additionally, if any witnesses are willing to share their contact information, your lawyer can contact them for their perspective on the events surrounding the collision.
Report the Incident to Your Insurer – Kentucky has what's called a no-fault car insurance system, which means that if you are involved in an accident, no matter who is responsible, your car insurance will cover the cost of damages, including medical expenses, lost wages, and out-of-pocket costs. Because each auto insurance policy has Personal Injury Protection (PIP) coverage in Kentucky, everyone involved is covered for up to $10,000.
Hire a Lawyer – Your car insurance does not cover pain, suffering, or property damages. Suppose you are seriously injured and have incurred incredible expenses due to someone else's negligence. In that case, you need more financial coverage than your insurance company can provide, as there may be punitive damages against the negligent driver. Get in touch with a lawyer to make sure that you recover compensation for your losses.
Frequently Asked Questions about Car Accidents
The Sampson Law Firm is dedicated to assisting individuals involved in car accidents. Their Louisville car accident attorneys understand the challenges of finding answers to your questions independently, so they have created a comprehensive list of frequently asked questions. If you cannot find your question on their list or would like to speak with their staff for further assistance, their contact details are readily available. You can reach them at (502) 584-5050 to learn how they can help you with your legal matter related to car accidents.
Can you sue for a car accident in KY?
Laws regarding car accidents and personal injury lawsuits, including personal injury law, can vary depending on the jurisdiction, including Kentucky. If you have been involved in a car accident and are considering legal action, it would be best to consult with a qualified attorney who can provide guidance based on your specific situation and the laws of Kentucky. They will be able to evaluate your case, explain your rights and options, and help you navigate the legal process if necessary. Please get in touch with The Sampson Law Firm for a free consultation.
Is Kentucky a no-fault state for car accidents?
Yes, Kentucky is a no-fault state for car accidents. In a no-fault state like Kentucky, each driver's insurance company is responsible for covering the policyholder's medical expenses and other damages regardless of who was at fault in the accident. This means that after an accident, you would typically turn to your insurance company to file a compensation claim rather than pursue a claim against the other driver's insurance. However, it's important to note that there are exceptions to this rule, such as cases involving injuries or damages that exceed certain thresholds, which may require additional motorist coverage. It's always best to consult with an attorney or insurance provider for specific guidance.
How long will my case take?
The duration of a tort litigation case cannot be predetermined. Several factors influence the length of a case, including securing legal representation, challenging your claim, conducting court research, obtaining funds for court expenses, and more. Depending on your situation, your case may be resolved within a few weeks or months, or it could take longer. It is important to note that the legal process and proceedings, including presenting arguments in front of a judge, jury, and/or arbitrator, also contribute to the duration of the case.
How much compensation can I expect to receive?
Individual compensation amounts are difficult to estimate for the plaintiff. Since every case is unique to a person's injuries and harm, the compensation they should seek and could potentially receive will vary. The compensation the plaintiff will obtain if they win the case will be based on medical bills, future expenses, and other factors, such as financial losses. The plaintiff should discuss potential compensation with their attorney who works on contingency.
Should I Accept a Settlement from the Insurance Company?
Undoubtedly, an auto accident can cause serious damage to your life and your car. If you or a loved one has been injured in an auto accident, it is important to consult a lawyer who will fight for the maximum compensation available to you.
For example, A settlement agreement with the other driver's insurance company could be unfair if there was something wrong with their policy coverage.
Insurance companies frequently opt for quick settlements as it is a cost-saving measure. However, this approach may result in unfair consideration of individual client circumstances during the claims process. When engaging in settlement negotiations, it is important to be well informed about your rights and entitlements under both Kentucky law and the policies provided by the insurance company.
What questions should I ask an accident attorney I'm thinking about hiring?
When searching for a Louisville accident attorney, asking the right questions is important to ensure you find the best fit for your case. Here are some questions to consider asking:
Have you succeeded in cases like mine? How many?
Do your fees change, and what exactly do they include?
What is the best way to reach you if I have questions?
What is the time limit for filing a lawsuit in Louisville after an accident?
The statute of limitations for personal injury claims in Kentucky is one year.
You must file your lawsuit within a year from the incident date. If you do not file a lawsuit within this period, your claim will be dismissed, and you will lose all rights to receive compensation.
If you have suffered injuries from an auto accident, contact an experienced Louisville car crash attorney immediately so they can investigate your case immediately.
What issues related to a road construction zone can make government agencies and contractors liable for accidents?
Government agencies and contractors can be held liable for accidents in a road construction zone due to a range of issues. These issues include, but are not limited to, accidents caused by construction debris left on the roadway, inadequate or insufficient construction zone markings, poor or improper signage, lack of warnings or barricades, failure to follow safety regulations and guidelines, negligent maintenance of traffic control devices, improper or inadequate traffic control measures, and any other factor that contributes to an unsafe environment within the construction zone. Suppose you have been injured in an accident resulting from any of these issues or related concerns in a road construction zone. In that case, it is crucial to discuss the specific details of your case with your lawyer during your free initial consultation.
Can I file a claim against the government if I was injured in a road construction accident?
Yes, it is possible to file a claim against the government if you were injured in a road construction accident. Government agencies and contractors can be held responsible in many cases for accidents that occur during road construction. If, for example, your accident was caused by construction debris in the roadway or inadequate construction zone markings, you may have grounds for a claim against the government. It is essential to discuss the specific details of your case with a lawyer during your free initial consultation to determine the validity of your claim and understand the legal options available to you.
Can I file a claim against a restaurant for a delivery driver's negligence?
Yes, it is possible to file a claim against a restaurant for a delivery driver's negligence. In Kentucky, employers can often be held responsible for their employee's negligent actions that occur within the scope of their employment. This legal doctrine is commonly referred to as "vicarious liability." Therefore, if you were involved in an accident caused by a negligent delivery driver who works for a restaurant, you may have grounds to sue the restaurant to seek compensation for your damages.
Car Accident Statistics for Kentucky
The 2017 Kentucky Traffic Collison Facts (PDF download) prepared by the Kentucky Transportation Center gives an overview of traffic accidents both in 2017 compared to years prior. According to the collected data, from 2016 to 2017 there was a 6.2% decrease in fatal collisions from 834 deaths to 782 deaths. Though a reduction in deaths can be seen as a positive development, statewide 2016 saw the highest recorded fatalities since 2007, wherein 864 were killed.
According to the data, men of every age are at a higher risk of being involved in fatal collisions than women. While all types of collisions can result in injuries to those involved, the most dangerous accidents occur when two vehicles strike one another. In 2017, 91,135 collisions between multiple cars occurred, leaving 1,506 victims with serious injuries.
Approximately 20 percent of fatalities in motor vehicle accidents occur when a vehicle veers off the road and collides with a stationary object beside the roadway. The most commonly struck objects include trees, utility poles, and traffic barriers. Nearly half of all deaths from crashes involving fixed objects happen during nighttime hours. Alcohol often plays a role in these incidents as well. Additionally, drivers may run off the road due to excessive speed, drowsiness, lack of attention, or limited visibility.
Among all of the interstates and parkways in Kentucky, the roadway that proved most fatal is I-64. Although more people suffered fatal injuries on I-64, the lion's share of collisions occurred on I-75, followed by I-65.
Driver inattention is the largest threat among Kentucky's many behavioral factors contributing to serious collisions. Cell phone use while driving is widespread across the United States, and Kentucky is no exception. While drivers under 18 are prohibited from talking on their phones while driving, drivers over 18 will not receive a ticket for the same behavior. However, texting while driving will earn all drivers, no matter their age, a ticket.
Talk to a Car Accident Attorney in Louisville
If you have been injured in a car wreck caused by someone else, getting compensation from the at-fault party responsible for the accident is often critical when dealing with medical bills and other costs. Our Louisville car accident attorneys at The Sampson Law Firm can help you explore your options in these circumstances and possibly help you pursue compensation. Call us today at (502) 584-5050 to schedule a consultation.