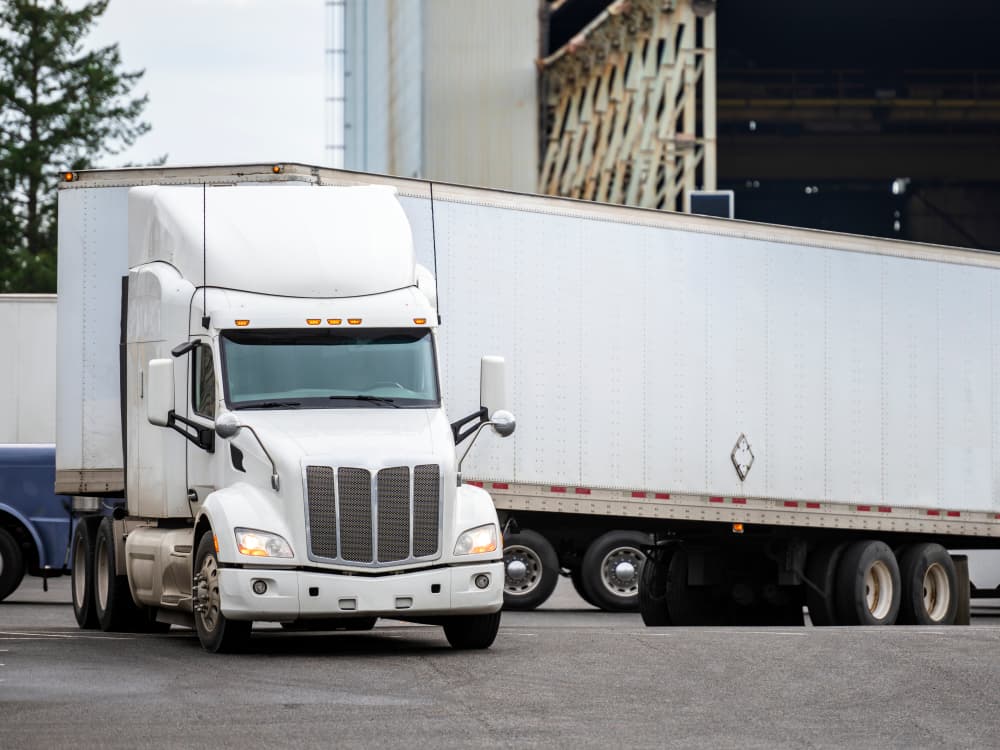 Louisville Truck and 18-Wheeler Accidents Attorney
If you have been seriously injured in a truck accident, you need to contact a Louisville injury lawyer to discuss your case.
Every day, millions of Americans share the roads with large commercial trucks and passenger cars. These types of vehicles play an important role in our national economy, helping to transport billions of tons of cargo every year. However, they also pose serious risks to the health and safety of other motorists as a result of their massive size and the force they can exert. As a result, injuries resulting from truck accidents, which can include brain and spinal cord injuries, are often far more serious than other types of car accidents. It is important to seek legal advice from experts in truck accident law if you or a loved one has been involved in a truck accident.
In light of the serious consequences that truck accident victims may have to face, truck drivers, truck manufacturers, and trucking companies should take extra precaution to ensure that they and the trucks are safe to be on the road. Unfortunately, at the Sampson Law Firm, we know all too well that many people in Louisville suffer from devastating losses due to these parties acting negligently, causing harm to the injured party. Fortunately, many victims are able to file a personal injury claim for truck accident claims against the party responsible for the truck accident, providing them with the potential to win much-needed financial compensation.
If you've suffered serious injuries from a Louisville truck accident, medical expenses, lost wages and diminished earning potential can quickly throw your family into financial disarray. When someone else is responsible for your suffering, call us for a free consultation to discuss your situation. At Sampson Law Firm, our experienced personal injury lawyers are committed to aggressively advocating for you when you need it most. Call us at (502) 584-5050 to discuss how your family may benefit from the efforts of an experienced truck accident lawyer.
Do I Need a Truck Accident Lawyer?
Even truck collisions at lower speeds can cause unimaginable damage to smaller vehicles and its occupants. In order to collect the full amount of compensation that you deserve, you need to reach out to an experienced lawyer to discuss your case. Truck accident cases are complex and can potentially have multiple liable parties, including potential at-fault parties. An experienced lawyer will investigate your situation, uncover the factors that led to your injuries, and pursue compensation from all of the people, agencies, or companies that played a role in your suffering.
Knowing who is to blame for your injuries is only one part of the equation. You also need to know how much your case is worth, especially when it comes to covering your medical bills. When you are in a dire financial situation, you may be vulnerable to accepting a lump sum settlement that doesn't come close to covering the financial burden you have acquired. An injury lawyer can do the heavy lifting when it comes to sorting through your past bills and figuring out the ongoing expenses that you will incur, ensuring that you receive the full services of a lawyer. Understanding the true value of your claim ensures that the legal outcome achieved will actually be beneficial to you and your family.
Negotiating for the best possible settlement in a personal injury lawsuit is a task best left to an experienced truck accident attorney. While we hope to secure a generous settlement expediently, the team at Sampson Law Firm will not hesitate to take your case to trial if the at-fault party is resistant in negotiations. We are serious about recovering the compensation that you need, including punitive damages, and our lawyers are ready to do what it takes.
Why Hire Sampson Law Firm to Handle My Claim?
Our firm has the experience and tenacity that you need when you are fighting for what you deserve. We know that when you are dealing with an injury, compassion is crucial, and you can't afford to spare extra time. For this reason, we aim to make the legal process as easy as possible for you, including minimizing the amount of paperwork you need to handle.
Attorney Sampson is an active member of numerous legal organizations including the Kentucky Bar Association, the American Bar Association, and the Kentucky Justice Association. He also lectures on legal matters including medical malpractice and workers' compensation, ensuring that his clients are aware of their legal rights, including the right to seek non-economic damages. Attorney Sampson is also continually identified as one of Kentucky's Most Prolific Trial Lawyers by the Kentucky Trial Court Review. This recognition is a reflection of the lengths that our lawyers are repeatedly willing to go to to make sure that our clients are taken care of. When a settlement isn't good enough, we fight for you at trial.
As a former account manager in the insurance industry and a police officer, attorney Poynter has a uniquely advantageous skill set for the work that we do. His perspective of insurance companies and hands-on understanding of the justice system benefit our clients in countless ways. He is also certified in Traffic Crash Reconstruction and Advanced Crash Investigation. These certifications allow him to better asses crash sites and advocate for what you have been through.
Causes of Truck Accidents
Truck accidents can, unfortunately, be caused by various factors and the actions of others. Some of the most common ways in which other people are at fault for an accident include:
When you have been injured in one of these types of truck accidents, you might be owed compensation and should explore your legal options for getting both the money and the closure that you need.
Types of Negligence Cases We Handle
The Louisville truck accident lawyers at Sampson Law Firm have a vast amount of experience handling commercial truck accidents. Collisions with commercial trucks differ from accidents with passenger vehicles because commercial trucks maneuver, stop and accelerate with more force than a passenger vehicle. Some of the more common truck accidents that we handle include the following:
Rear-End Collisions – Commercial trucks require more space to make a complete stop than a passenger vehicle. A commercial truck weighing 80,000 pounds and traveling at 65 mph requires the distance of two football fields to make a complete stop. On the other hand, a passenger vehicle weighing 4,000 pounds and traveling at the same speed requires less than the distance of one football field to make a complete stop. Because of the distance that it takes for a truck to make a complete stop, rear-end accidents are fairly common occurrences. Plus, the size and weight difference between a commercial truck and passenger vehicle can have especially devastating outcomes in a rear-end accident.
Rollover Crashes – Rollover crashes are more common accidents with commercial trucks than passenger vehicles because trucks are larger and heavier vehicles, making them more prone to lose balance. If a commercial truck driver loses control of the vehicle and it skids across the highway and topples over, the truck can hit other vehicles on the way, spill cargo that might strike other vehicles, or even catch fire.
Underride Accidents – An underride accident occurs when a commercial truck makes a sudden stop and the vehicle traveling behind it crashes into the backside of the truck and becomes lodged underneath it. Oftentimes, underride accidents are the extension of a rear-end collision. These types of accidents can lead to severe injuries because the top of the passenger vehicle may be completely sheared off.
Jackknife Collisions – A jackknife collision occurs when the truck's trailer swings out to the side to form a 90-degree angle with the cab. This type of accident usually occurs when the truck's brakes lock up, which causes the truck's trailer to skid to one side or the other.
Wide-Turn Crashes – Because of the truck's wide turning radius, a commercial truck needs a lot of room to make a turn. When trucks get trapped in small intersections, the driver usually has to use more than one lane to make a turn. Depending on the direction the driver is turning, the truck may collide with oncoming traffic or crush a smaller vehicle.
Blind-Spot Collisions – This type of accident happens when a truck driver does not check their blind spot before changing lanes. A truck's blind spots are in the rear of the truck and along the sides of the truck.
Head-on Collision – Head-on collisions are extremely dangerous accidents that occur when two vehicles traveling in opposite directions collide with the front ends of their vehicles. If a truck swerves out of its lane and into a lane with oncoming traffic, a head-on collision can occur. As you can imagine, the truck's size and weight can have devastating effects on a smaller passenger vehicle if an accident occurs.
Cargo-related Accidents – If a truck is overloaded or its cargo is improperly secured, the truck might lose its cargo in transport or in the event of an accident. If the cargo becomes loose, it has the potential to hit other vehicles on the road and cause accidents.
Truck Accident Statistics
According to the 2017 Kentucky Traffic Collison Facts prepared by the Kentucky Transportation Center, Kentucky has seen a modest decrease in fatal traffic incidents from 2016 to 2017. In 2016, 834 people were killed on public roads in Kentucky, whereas in 2017, 782 people lost their lives on public roads. While this 6.2% decrease in fatalities is a positive development, compared to the fatalities from 2009 – 2015, the number of roadway fatalities in 2017 is still a marked increase.
As of 2017, there are 164,556 registered commercial trucks in Kentucky, including tractor trailers. This number pales in comparison to the 2,340,732 registered passenger vehicles but nonetheless makes up nearly 4% of all accidents. In 2017, 9,819 trucks were reportedly involved in collisions, 82 of which resulted in fatalities. 1,461 of the total 9,819 truck collisions left those involved with injuries.
According to collected data, males between the ages of 25 and 34 are at the highest risk for being involved in collisions both fatal and non-fatal. Among all of the factors that contribute to collisions, driver inattention is the most threatening human factor causing accidents whereas defective breaks are responsible for the majority of collisions caused by vehicular factors.
Truck Accident FAQs
Injuries and the numerous complications that accompany them are nearly impossible to deal with alone. If you are considering hiring a lawyer to fight on your behalf, we know that you have questions. Our years of experience fighting for truck accident victims has given us the knowledge needed to address your concerns. Read over some of our frequently asked questions and call our Louisville truck accident lawyers at (502) 584-5050 today.
Who is liable in an 18-wheeler accident?
Determining liability in an 18-wheeler accident is often tricky because more than one party can play a part in causing the accident. The truck driver operating the 18-wheeler has the same duty to follow laws and safety procedures as every other driver on the road. Additionally, truck drivers must follow regulations created specifically for the industry. If a truck driver neglects to follow laws and regulations, they are at least partially responsible for the accident. Additionally, trucking companies that employee drivers are responsible for training and supervising drivers, making sure they know the rules and follow safety regulations. Trucking companies are also responsible for making sure the trucks themselves are operating properly. If the trucking company neglects these duties, they may also be liable for the damages of an accident.
What are a truck driver's hours of service regulations?
The Federal Motor Carrier Safety Administration (FMCSA) is an agency of the United States federal government that is responsible for regulating and providing safety oversight of large commercial vehicles. The FMCSA created regulations that govern how long truck drivers are allowed to operate in a 24-hour period. These regulations are called the hours of service regulations. They were created to keep fatigued truck drivers from operating and threatening lives. The regulations state the following:
Drivers may drive a maximum of 11 hours after a consecutive ten hours off-duty
Drivers may not drive beyond 14 consecutive hours after coming on duty. Off-duty time does not extend the 14 hours
Drivers may drive only if eight hours or less have passed since the end of a driver's last off-duty or sleep period of at least 30 minutes.
Drivers may not drive after 60/70 hours on duty in 7/8 consecutive days.
Drivers must take at least eight consecutive hours to sleep, plus an additional two consecutive hours off-duty
How can you prove a truck driver went over their hours of service regulations?
18-wheelers have electronic control modules incorporated into their engine systems. These control modules, also called black boxes, record data about the truck's operation history, including time driven. Trucking companies also usually operate on a driver log system to keep track of deadlines and days of truck operation. With these two sources of information, it should be easy to tell if a driver was operating over their hours of service regulations. However, it is not uncommon for a trucking company to try to hide or falsify this information in an effort to distance itself from accident liability. If you suspect that your 18-wheeler accident was caused by a fatigued driver, contact an attorney at the Sampson Law Firm as soon as possible.
How Long Do I Have to File a Claim?
For all injury cases, victims only have a small window of time to take action against the at-fault parties. This period of time, referred to as the statute of limitations, varies state by state. In Kentucky, Ky. Rev. Stat. § 413.140(1)(a) grants most injury victims only one year from the date of the accident to file a claim. However, Kentucky, Ky. Rev. Stat. § 304.39-230 allows two years to file a lawsuit after a vehicular accident in which you were injured.
Additionally, Kentucky law only allows surviving family members one year to file a wrongful death claim when a loved one has suffered fatal injuries. One year is not a generous amount of time so if you think you have a case, reach out to us as soon as possible. If you fail to file in time, you will not be able to recover damages for what you have lost.
Speak with a Truck Accident Lawyer in Louisville
If you have been the victim of a truck accident, our Louisville truck accident lawyers at the Sampson Law Firm understand that you are likely suffering from burdensome financial expenses, traumatic physical injuries, and serious emotional trauma. With our help, though, you may be able to obtain compensation and justice from the truck driver or trucking company responsible for your losses. Find out how we can help you through this difficult time by calling (502) 584-5050.