Louisville Attorneys for Head-On Collisions with a Truck/18-Wheeler
Semi-tractor trailers or 18-wheelers are much larger than passenger vehicles. When they're fully loaded, these commercial vehicles can weigh up to 80,000 pounds. An 80,000-pound object, when involved in a collision, can be a deadly weapon. Combine the fact that head-on collisions are the deadliest type of collision with the massive size of a truck or 18-wheeler, and you'll see how dangerous head-on collision truck accidents can be.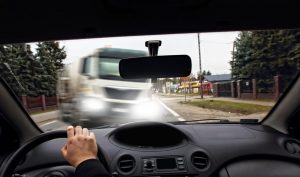 Head-on truck accidents can cause serious and life-threatening injuries to occupants of passenger vehicles. If you've been injured in a crash like this, you may end up with a disability, life-long pain, and/or permanent scarring and disfigurement. In addition to the physical and emotional costs to you, treatment for your injuries can cause you significant financial debt. If someone else was at fault for the crash, you could be compensated for your injuries and accident-related losses.
The Louisville truck/18 wheeler accident lawyers of Sampson Law Firm can help you pursue the compensation you're owed for your injuries. For a free consultation, call us today at (502) 584-5050 or contact us by filling out our online form.
Common Causes of Head-On Collisions
A trucker's negligence could lead to a head-on collision. The following negligent actions could be the cause:
Distracted driving – Many people are attached to their phones. Unfortunately, some motorists don't put their phones down while they're driving, and truck drivers are no different. Phones are one of the most common distractions while driving, but truckers can also be distracted by other things like using and controlling screens and other features in their vehicles, eating, or reaching for something in the back of the cab. Anything that has the potential to take a trucker's eyes off the road is a dangerous distraction.
Driving while under the influence – When a truck driver is intoxicated by drugs or alcohol, it impairs their judgment, their facilities, and their ability to respond quickly if conditions require or when something unexpected happens.
Driving while fatigued – Similar to driving while intoxicated, driving while fatigued is dangerous because of the impairment it causes to the driver. Fatigue is particularly common with truck drivers, and they're at increased risk of working while fatigued because of the nature of their jobs. Long-distance driving and demanding schedules are among the reasons that federal regulations were made that dictate how many hours a trucker can drive without a break. If they exceed those hours, truck drivers can feel fatigued while operating their massive vehicles.
Violating traffic laws – When truck drivers violate traffic laws accidents can result. Traffic laws exist as a means to protect motorists, passengers, and pedestrians.
Improper use of signaling – Using signals is an important part of safe driving as it alerts other motorists to your actions. When a truck driver doesn't use proper signaling, such as when they're making a turn, it increases the risk of a head-on collision.
Speeding – Driving at high speeds is a recipe for disaster. Speeding is especially dangerous for truck drivers because the size and weight of the loads attached to trucks and tractor-trailers require greater stopping time and distance. If truckers don't allow for that time and distance, they can easily cause a head-on collision while trying to control their truck.
Common Head-On Collision Truck Accident Injuries
Head-on collision truck accidents can cause severe injuries. It's common for truck accident victims to sustain the following types of injuries:
Brain injuries, including traumatic brain injuries
Back injuries
Neck injuries, including whiplash
Head injuries
Paralysis
Lacerations
Amputations
Muscle sprains and strains
Broken bones
Organ damage
Internal bleeding
These are the physical injuries that can result from a truck or 18-wheeler collision. The mental and emotional injuries may not manifest visually and their effects may not even occur until days or weeks after the accident. Nonetheless, the mental and emotional effects can be just as debilitating as even the most serious physiological injuries.
The Process for Obtaining Compensation for Your Truck Accident Injuries
After being injured in a truck accident, you should hire an experienced truck accident attorney from Sampson Law Firm to fight for the compensation you deserve and help you navigate the challenging process ahead. Because Kentucky is a "choice no-fault" state, if you want to file a claim with the at-fault party's insurance company, you must submit a "Kentucky No-Fault Rejection Form" with the Department of Insurance. We can help you with that.
In order to pursue compensation that will cover all your accident-related losses, you'll likely have to file a personal injury claim with the trucking company's insurance company. The insurance company will investigate the accident. We'll negotiate with the insurance company for the full amount of compensation you deserve for your losses. If the insurance company won't pay the compensation we request and that you're owed, you can decide to file a lawsuit against the trucking company.
Lawsuits are complex and can take months or years to resolve. When you file a lawsuit against the trucking company, it starts a complicated legal process involving court hearings and a trial. Your attorney from Sampson Law Firm will represent you throughout these legal proceedings and fight the trucking company's high-powered attorneys. Whether you get compensation and how much will be decided by either a judge or jury.
Hire the Experienced Truck Accident Attorneys of Sampson Law Firm
If you've been seriously injured in a head-on collision with an 18-wheeler that wasn't your fault, you have the right to pursue compensation for your injuries.
The Louisville truck accident attorneys of Sampson Law Firm have spent 25 years representing clients who were injured as a result of other individuals' or companies' negligent actions. We've fought insurance companies and trucking companies in settlement negotiations and in court to help our clients recover their losses and get the justice they were owed. Some of the clients we've represented who were severely injured in semi-tractor trailer collisions obtained significant settlements due to the steadfast advocacy and hard work of our Louisville truck accident attorneys.
Call Sampson Law Firm today at (502) 584-5050 or contact us online for a free consultation where we can discuss your case and how we may be able to help you get justice for the harm that was done to you.