How to File an Insurance Claim After a Car Accident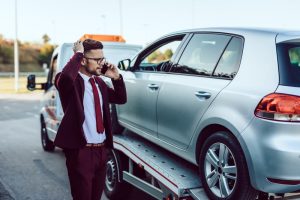 If you suffered an injury in an automobile accident in Kentucky caused by someone else, you might be wondering what steps you need to take to file an insurance claim. Knowing what to do and how to navigate the process can be confusing, especially if you are unfamiliar with the laws in Kentucky. This blog post will provide an overview of what you need to know about filing a car insurance claim after an accident in Kentucky.
No-Fault Laws and PIP Insurance in Kentucky
Kentucky is one of the 12 states in the U.S. that has adopted no-fault laws for car accidents. Under a no-fault system, each driver and passenger involved in an accident will file a claim through their own insurance policy to recover compensation for medical bills and expenses. The insurance company will pay benefits up to the policy limit regardless of who was at fault for the accident. This system is designed to reduce the amount of litigation needed for minor car accidents and simplify the process of receiving compensation for losses.
Personal Injury Protection (PIP) insurance is required for Kentucky-registered vehicles. PIP covers medical expenses up to a minimum of $10,000, though the owner may purchase higher policy limits. If an injured party's injuries exceed certain thresholds set by the state, they will be exempt from the no-fault laws and may be able to pursue compensation from the other driver. The thresholds in Kentucky are:
The accident resulted in over $1000 in medical expenses for the claimant, or
The accident caused the claimant a broken bone, permanent disfigurement, permanent injury, or death.
Uninsured and Underinsured Motorist Coverage
Insurance companies are required to offer uninsured motorist bodily injury coverage (UMBI) and underinsured motorist coverage (UM) to all drivers, and in many cases, it is automatically included in insurance policies unless the driver specifically rejects it in writing. Unless rejected, the state requires drivers to carry UM coverage equal to the amount of minimum bodily injury coverage required, which is $25,000 per person and $50,000 per accident.
A person injured in a car crash caused by a driver with no insurance coverage can turn to their UMBI after they use their PIP coverage. UMBI covers medical bills, lost wages, and funeral expenses.
Injured plaintiffs who carry UM coverage may be able to recover additional compensation from their own insurance after using their PIP benefits if the other driver's policy limits are insufficient to cover the injured party's losses. After the third-party insurance policy is used up, the injured party's UM coverage can be used to cover their uncompensated losses.
What If I Rejected No-Fault Insurance?
Kentucky Revised Statute § 304.39-060 gives drivers the ability to opt out of no-fault coverage if they file the appropriate form with the Department of Insurance. In these cases, the insured has the right to file a claim against the other driver for their injuries, but they are also vulnerable to lawsuits if they caused the accident.
How Do I File a Claim?
After a car accident, filing an insurance claim is often the first step you should take. The steps to take when filing a car insurance claim in Kentucky are as follows:
Contact your insurance provider: Soon after the accident, contact your insurance provider and report the incident. You will need to provide details about the accident, such as where it occurred and what type of damage was sustained. You'll need to provide any medical bills relating to your injury and evidence from the accident scene, such as photos, witness statements, and police reports.
File a claim: Once you have gathered all your necessary documents, you can file a car insurance claim with your provider by calling your insurance company or filing a claim through the online portal. You should include the details of the accident, a description of any damages incurred, and the estimated costs of repairs.
Seek legal advice: When you've been injured by someone else in a car crash that wasn't your fault, one of the first things you should do is get an attorney.
File a third-party injury claim: Provided that your injuries meet the requirements, your lawyer can file a claim against the at-fault party's insurance company for your accident-related injuries and losses. They can negotiate for an appropriate settlement on your behalf, and if the insurance company won't make a reasonable settlement offer, they could pursue compensation for you through a trial.
How Long Do You Have to File a Car Accident Injury Claim in Kentucky?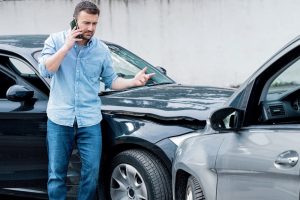 According to Kentucky Revised Statute § 304.39-230, injured people have two years from the date of the car accident to file a lawsuit against the at-fault party for their injuries. If an injured party tries to file a lawsuit after the statutory deadline has expired, their case will likely be dismissed. They will have lost the opportunity to pursue compensation through the court system.
What Types of Compensation Can Be Recovered in a Kentucky Car Accident Lawsuit?
If you suffered injuries in a Kentucky car accident caused by another driver, you might be entitled to compensation for losses that you have suffered. Depending on the facts of the case, compensation may include:
Medical expenses,
Lost wages
Loss of earning capacity
Pain and suffering
Property damage
Loss of consortium
Speak with a Louisville, KY, Car Accident Attorney
If you've been injured in a car crash in Kentucky that wasn't your fault, an experienced Louisville car accident attorney can help protect your rights.
At Sampson Law Firm, our team of dedicated personal injury lawyers has years of experience handling Kentucky car accident claims and will work tirelessly toward getting you the compensation you deserve. Call us today at (502) 584-5050 for an initial legal consultation.
Related Posts:
Who is Responsible for Car Accidents Caused by Road Defects