What Not to Say to An Insurance Adjuster 
A car accident can be a violent and hectic event. You may need some time to get your thoughts in order and reflect on the details of the incident. Unfortunately, time may not be on your side when you are dealing with an insurance adjuster.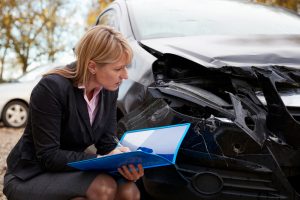 Insurance adjusters may want an immediate and complete account of the accident. They can disarm you with their friendly demeanor and polite and caring attitude. However, underneath the charming exterior, insurance adjusters have one job to complete. Their job is to prevent the company they work for from losing money by paying out large settlements. Their push for a quick and detailed summary of the accident can end up costing you money.
Before you find yourself on the receiving end of a claims call, the team at Sampson Law Firm wants you to consider this list of things to never say to an insurance adjuster.
Do Not Offer an Apology
Apologizing for an accident is one of the worst things you can do when you're talking to an insurance adjuster. Saying that you are sorry in any form can be taken as an admission of guilt for causing or contributing to the cause of the accident.
Kentucky is a pure comparative fault state, meaning the damages you recover following an accident may be linked to your level of fault for causing an accident. The pure comparative fault rule technically only binds Kentucky court judgments. However, insurance adjusters take into consideration how a court would rule when placing a value on a claim. Saying you are sorry can, therefore, ultimately diminish the value of your claim.
You Aren't "Fine"
It has become an automatic response for many people. When they are asked how they are doing, the immediate and easiest response is generally, "I'm fine." These are two words that you do not want to use when talking to an insurance adjuster. If you are uncomfortable talking about the extent of your injuries or you have not seen a physician yet, politely decline to talk about your health. Downplaying your injuries or telling an insurance adjuster that you are fine will hurt your ability to seek compensation for your injuries. Remember, you do not have to disclose your medical information to an insurance adjuster.
Do Not Speculate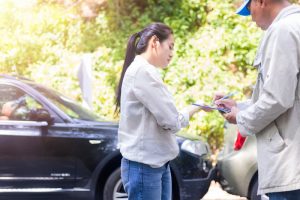 When talking to an insurance adjuster, supply only the facts. Do not speculate or offer opinions about what you think caused the accident. Avoid saying:
I think
Maybe
The other driver must have been…
It is always best to avoid giving an insurance company an oral statement or letting them record your call as their official account of the crash. If the insurance company wants an official record of the crash, talk to your attorney and allow them to help you communicate with the insurer. A written statement is also more appropriate than an oral statement. Be sure everything is factual and accurate. Embellishments or statements of opinion can hurt the value of your claim.
Don't Say "Yes" to the First Settlement Offer
Since insurance companies are out to improve their own bottom line, you can be sure that the insurance adjuster's first settlement offer will be quite low. Do not accept it, no matter how desperate you may feel for a cash infusion at the time.
First, if the offer is made soon after the accident, your injuries may not have fully manifested yet. What if you agree to a settlement offer right away and then it turns out that you have a concussion or a neck injury that only comes to light weeks after the accident? If you've accepted their settlement offer, you won't be able to get the insurance company to pay for the medical care you need for those conditions.
Second, if you accept the first low-ball offer the insurance company makes, you can be sure it won't adequately compensate you for any future medical care you may need, or any future loss of income that results from the accident. You need the assistance of a knowledgeable attorney to help you accurately assess the value of your claim. Your attorney will know how to take into consideration all your medical expenses, lost wages, accident-related property damage, and intangible losses to arrive at a number that will provide fair compensation for your injuries.
Contact a Kentucky Car Accident Attorney Today
These rules are a great jumping-off point for navigating the confusing ordeal of talking to an insurance adjuster post-accident. Want to make communication with an insurance adjuster even easier? Get in touch with an experienced Kentucky car accident attorney immediately.
At Sampson Law Firm, we can help manage all communication between you and the insurer. Our legal team can also collect evidence that will support your claim as we negotiate for the maximum compensation possible. To talk to one of our skilled car accident attorneys, call (502) 584-5050 for a free and confidential consultation.