Louisville Workplace Accident Wrongful Death Lawyers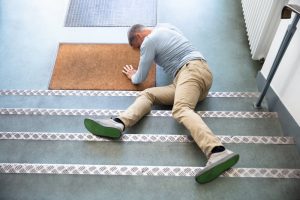 No one expects their loved one to lose their life during something as routine as their daily work. Unlike deaths caused by diagnosed illness, unexpected wrongful deaths in the workplace leave the family and friends of the deceased without a proper goodbye. On top of the heartbreak you are feeling, wrongful deaths cause significant financial hurdles that few households can readily bear.
At the Sampson Law Firm, our Louisville wrongful death attorneys work on behalf of families who lost a loved one to someone else's wrongdoing. During a free consultation, we can discuss your legal options for holding liable parties accountable. While we can never fully right the wrong, we understand and empathize with your family's challenging situation and can pursue the money you need. Contact us today through our website or by phone at (502) 584-5050.
Basics of Kentucky Wrongful Death Claims
A wrongful death is an injury lawsuit that someone brings on behalf of another who died due to injuries caused by someone else's wrongdoing. They are no longer alive to bring a lawsuit, so someone else must hold negligent parties accountable.
Kentucky law allows only the personal representative of the deceased person to file a wrongful death lawsuit. The proceeds from a wrongful death lawsuit should be to benefit these parties:
Surviving marriage partner to the deceased
Child of the deceased
Mother or father of an unmarried person with no children who died
Relative of someone with no surviving spouse, children, or parents who died
Wrongful death lawsuits are considered "third-party" lawsuits and are different than workers' compensation claims.
Workers' Compensation Death Claims vs. Third-Party Lawsuits
In Kentucky, workers' compensation is an exclusive remedy. That means that if a worker files a claim for workers' compensation benefits, they are not allowed to file a lawsuit against their employer for compensation.
When you make a workers' compensation claim on behalf of your deceased loved one, you do not have to prove negligence on the part of the employer, and you can start receiving benefits fairly quickly. Because of this, families struggling due to grief and an unexpected drop in income are often tempted to accept this form of compensation.
Workers' compensation benefits cover medical expenses incurred before the worker's death, a percentage of their lost wages from the date of the injury to the date of death, and a lump sum for death and burial benefits. However, workers' compensation benefits do not cover pain and suffering, loss of consortium, or other intangible losses.
Although the deceased's family will likely receive workers' compensation benefits quickly, there is a situation when the family should consult an attorney and consider whether it's better to file a lawsuit against the employer. If the employer's actions were a cause of the death, either through egregious negligence or intentional act, filing a lawsuit in court might be a better way to go. Your attorney can discuss your options with you to help you determine which h way to pursue the money you need.
Third-Party Wrongful Death Lawsuits
Third-party lawsuits are those filed against individuals or entities that were at fault for or contributed to the workplace accident. Potentially liable parties could include equipment manufacturers, independent contractors working on site, other employees, visitors, or passersby to the worksite. 
What Compensation Is Available in a Wrongful Death Lawsuit?
When the deceased's personal representative files a wrongful death lawsuit, they could pursue compensation for a variety of losses related to the death. Among those losses are:
Medical expenses
Funeral and burial expenses
Loss of income from the deceased's lost earnings and benefits
Loss of services and support provided to the family
Pain and suffering of surviving family members
Loss of consortium suffered by the surviving spouse
Loss of parental guidance and support by the deceased's children
Punitive damages can also be sought if the actions that led to the accident were oppressive, fraudulent, or malicious. Although there is no cap on compensatory damages awarded in wrongful death suits, punitive damages are capped at four times the amount of compensatory damages or $500,000, whichever is greater.
Statute of Limitations for Wrongful Death Cases
Your attorney has only one year from the incident date to file a wrongful death claim as a personal representative in Kentucky. One year will pass quickly, so it's critical that you engage an experienced attorney who is well-versed in wrongful death claims as soon as possible. If your wrongful death lawsuit isn't filed before the statutory deadline expires, you will lose your opportunity to pursue compensation in court for your losses.
The Role of a Louisville Wrongful Death Attorney for Workplace Accidents
A wrongful death attorney can be essential when you're pursuing compensation in a workplace accident wrongful death lawsuit. Your attorney can perform a variety of actions on your behalf, including:
Investigating the accident
Identifying potentially liable parties
Gathering evidence
Building a strong case
Assessing the value of your claim
Filing a demand letter with the at-fault party's insurance company or legal department
Negotiating an appropriate settlement
Advocating for the award you need in court if a settlement cannot be reached
What to Look for When Choosing a Wrongful Death Attorney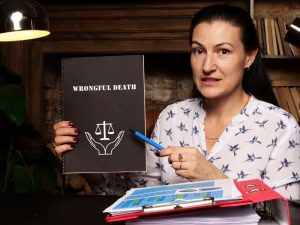 There are many wrongful death attorneys that will be willing to help you pursue the money your loved one's death warrants. How do you select an appropriate one for your case? Consider these factors:
Experience: Look for an attorney with experience in wrongful death claims and lawsuits, specifically in wrongful death in the workplace cases. A lawyer who has worked many of these cases will know the ins and outs of this type of law.
Results: Research the results they've had in similar cases, and review their client testimonials to see what kinds of success they've had in the past.
Communication: Ask the lawyer how they communicate, how often they communicate, and how quickly they'll respond to your phone calls, texts, or emails.
Contingency fee: Find out how the lawyer gets paid. Most wrongful death attorneys work on a contingency-fee basis, which means you won't have to pay anything upfront. The lawyer takes a cut of the proceeds once they get money for you.
Contact a Workplace Accident Wrongful Death Lawyer in Louisville, KY
The attorneys at Sampson Law Firm can't turn back time, but we can help your family after a wrongful death. Negligent parties should be held accountable and forced to reckon with their actions in court. Contact us today at (502) 584-5050 to talk to an experienced attorney about your legal options in a workplace accident wrongful death lawsuit.