Louisville Scalding Burn Injury Lawyers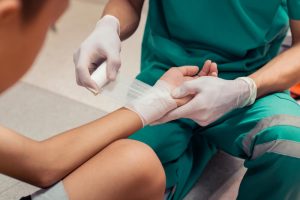 If you sustained a scalding burn injury due to someone's negligent, reckless, or intentional actions, contact Sampson Law Firm immediately. You might be entitled to financial compensation for your hospitalization, medical bills, and additional expenses. We could represent you in a lawsuit to hold the at-fault party liable.
Someone else is at fault for the incident that caused your scalding burn and should be financially responsible for your accident-related costs. The compensation you receive could cover the bills you receive while treating your injury. You should not have to pay out of pocket when your actions didn't contribute to the accident.
At Sampson Law Firm, we have more than two decades of experience fighting for injured clients in Louisville. Our legal team has the resources to gather substantial evidence to prove fault for a burn injury and recover the maximum possible insurance settlement. We're not afraid to file a lawsuit and bring cases to court if necessary.
Call Sampson Law Firm at (502) 584-5050 for your free case evaluation with one of our dedicated Louisville burn injury lawyers.
What Is a Scalding Burn Injury?
A scald burn, also called a water burn, results from wet substances like hot coffee. The severity of the injury can range from superficial, affecting only the outermost layer of the skin, to severe, requiring skin grafting to repair the damage. Many people experience severe and chronic pain at the site of the injury.
Burn injuries fall under different classifications depending on their severity. The classifications of a scalding burn injury include:
First-degree burn – A first-degree burn is superficial. It only causes damage to the outer skin layer. Symptoms such as redness, swelling, and inflammation at the injury site are often minor. As the wound heals, the skin can peel but typically doesn't leave any scars.
Second-degree burn – A second-degree burn damages multiple layers of the skin. Redness and swelling might occur at the site of the injury. Additionally, blisters can develop and lead to scarring and skin pigmentation changes.
Third-degree burn – A third-degree burn is the most severe type. The injury damages every layer of skin and extends below to the nerves. A common misconception is that a third-degree burn is painful. However, the significant nerve damage often masks the severity of the injury. A skin graft to repair the damage is often necessary after this kind of burn.
If you suffered a scalding burn of any degree, you should seek immediate medical attention at a hospital. The doctor can diagnose the severity of your injury and determine the necessary treatment to heal.
Complications Associated with Scalding Burns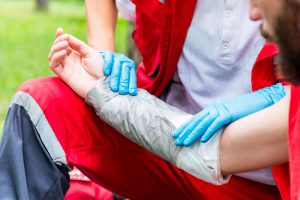 Scald burns can cause a range of serious complications if left untreated. Even if you undergo adequate treatment, various factors could lead to medical issues.
For example, an infection could form at the site of the injury. If it enters the body through the open wound, it could travel to vital organs and cause significant damage. Sometimes, infections are so severe that a surgeon must amputate a leg, arm, or another body part to prevent the infection from spreading. Infections can eventually lead to organ failure, coma, or death without proper medical care.
Permanent scarring or disfigurement are common complications of scalding burn injuries. Scars often result from skin grafting or wounds that don't heal properly or entirely. Disfiguring burns that cover a large area of the body or the face can alter a person's appearance.
A scald burn can lead to additional complications, such as:
Shock
Loss of mobility
Sepsis
Joint issues
Dehydration
Chronic pain
Hypothermia
Difficulty breathing and respiratory problems
Significant blood loss
Tetanus
Cardiac arrest
Listen to your doctor's orders while you're recovering from a scald burn. Even if the injury seems minor, you should go to the hospital. You'll need the correct diagnosis to determine the severity of the burn and whether medical intervention is necessary.
Compensation for a Scalding Burn
You could file a claim with the at-fault party's liability insurance company or bring legal action against them in a lawsuit. The method of seeking compensation will depend on the circumstance of your case. You could recover a financial award to compensate you for losses related to the accident, such as:
Pain and suffering
Medical bills
Permanent scarring, impairment, or disfigurement
Lost wages
Lost earning capacity
Mental anguish
Personal property damage
If you file a lawsuit, you could also pursue punitive damages. However, you must show clear and convincing evidence that you were harmed because of the defendant's malice, oppression, or fraud to recover this type of compensation.
If your family member suffered a fatal scalding burn, you might be able to recover compensation from a wrongful death lawsuit. Only the personal representative of the estate can file a lawsuit for wrongful death. The financial award compensates the estate for attorneys' fees, funeral expenses, and administration costs. Surviving family receives the remaining compensation.
Statute of Limitations for a Lawsuit
You must comply with the statute of limitations if you want to file a lawsuit against the at-fault party for your scalding burn injury. The Kentucky statute of limitations provides a one-year timeframe to initiate your lawsuit. If one year passes before you file suit, you could lose your right to pursue compensation through the court system.
Contact Us
At Sampson Law Firm, we dedicate the necessary time and effort to make the most of every case we take. You will be our priority while we work on pursuing the money owed to you. We understand the importance of holding another person accountable for their misconduct and always strive to meet our clients' needs.
Since 1992, our scalding burn injury lawyers in Louisville, KY, have represented accident victims harmed by the wrongdoing of others. We will explore all legal options and determine the best method to try to reach the most favorable outcome in your case. You can count on us to protect your rights and fight by your side for the justice you deserve.
If you sustained a scald burn in an accident someone else caused, call Sampson Law Firm for your free case evaluation at (502) 584-5050. Let us be your advocates and help you get on the road to recovery.