Louisville Attorneys for Burn Injuries Caused by Fires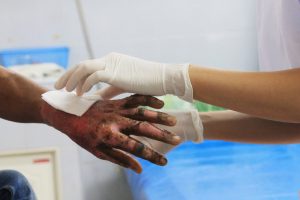 Have you been burned in a preventable fire caused by someone else's negligent, careless, or wrongful behavior? If so, you may be suffering from painful complications and struggling financially as you miss time at work. Fortunately, you could be entitled to substantial compensation for your losses in a burn injury claim.
At Sampson Law Firm, our experienced Louisville burn injury lawyers offer effective and compassionate legal representation to local people who have been injured by the actions of others. To learn more about your legal options in the aftermath of a burn injury caused by a fire, continue reading or contact us at (502) 584-5050 for your free consultation.
Common Causes of Accidental Burn Injuries Involving Fire
Fires are a leading cause of property damage, injury, and death in the United States. Here are some of the most common causes of accidental fires and burn injuries:
Appliances and equipment – Any device that generates heat can pose a fire hazard. This includes devices that are meant to produce heat, such as hairdryers, and devices that produce heat as a by-product, such as computers. If a heat-producing appliance is defective or left unattended, it can easily result in preventable fires.
Unattended flames – Similarly, unattended flames can be extremely risky, even controlled flames. Negligent parties who leave lit candles, fireplaces, stove burners, or barbecue grills unattended may be responsible for subsequent fire and burn injuries.
Holiday decorations – Christmas decorations, in particular, are infamous fire hazards. Dried-out Christmas trees, twinkle lights that stay on all season, and other lit or burning decorations can all contribute to devastating fires.
Electrical malfunctions – Any device or system powered by electricity can start a fire. In addition to electrical lights that end up overheating, shoddy electrical work such as loose cables or poor grounding pose serious fire and burn risks.
Unsafe smoking habits – Many house fires are the result of unsafe smoking habits. Inattentive smokers can set furniture, carpeting, or curtains on fire if they accidentally drop hot ash or fall asleep while smoking indoors.
Combustible materials – Mixing certain household chemicals can result in combustion, as can natural gas or propane leaks. When combustible materials are introduced to a home or building, one stray spark is all it takes to start a fire.
Unsupervised children – Young children who do not know any better cause plenty of house fires by playing with fire or matches without supervision. Older children may also set fires on purpose out of curiosity or boredom.
Intentional fires – Many accidental fires start out as intentional fires, such as campfires, that end up getting out of control. And occasionally, burn injuries occur as the intended consequences of intentional fires, such as in arson cases.
Possible Long-Term Effects of Burns and Other Fire Injuries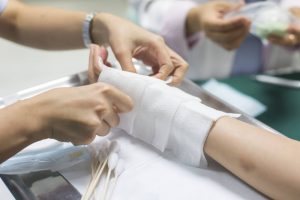 The potential consequences and long-term complications of burns and other injuries caused by fire can vary significantly depending on the location, size, and severity of the injury. Common complications from the most serious burn injuries include:
Bacterial infections, which can contribute to sepsis and death
Substantial fluid loss, including low blood volume
Hypothermia or dangerously low body temperature
"Burn shock," which can involve low blood oxygen levels
Systemic inflammatory response syndrome (SIRS)
Respiratory issues from breathing in hot air or smoke
Scarring and permanent disfigurement after burns have healed
Orthopedic problems from tightening of scars or joint contracture
Post-traumatic stress disorder (PTSD) and other psychological issues
Who Is Liable for Burn Injuries I Sustained in a Fire?
To obtain compensation from a burn injury claim, you must be able to demonstrate that another party was responsible for your injuries. Depending on the circumstances, you may be able to hold any of the following parties liable:
A property owner – If a property owner knew or should have known about a fire hazard on their property but failed to address it or warn visitors, they may be liable for subsequent burn injuries. This includes parties who actually own properties, such as landlords, and parties who are simply present on the property, such as apartment tenants or businesses that rent commercial spaces.
An employer – If you were injured in a preventable fire that occurred in the workplace, your employer might be liable. Many injured workers are entitled to workers' compensation benefits for occupational burn injuries.
A manufacturer – If the fire occurred as a result of a defective product, the manufacturer or seller of that product may be liable.
A private individual – Finally, a private individual whose negligence or intentional behavior contributed to the fire may be liable.
How Much Compensation Can I Recover for My Burn Injury Case?
With the help of a knowledgeable attorney, you could be entitled to compensation for the following types of personal and financial losses in a successful burn injury case:
Hospital bills and any other medical expenses you incur due to your burn injuries
Incidental costs, such as mileage expenses from travel to medical appointments
Lost wages or benefits from any time you miss at work during your recovery
Projected losses in your future earning capacity, if you suffer permanent injuries
Subjective losses, such as pain, suffering, and lost quality or enjoyment of life
How a Burn Injury Lawyer Can Help
When you retain the services of the knowledgeable burn injury lawyers at Sampson Law Firm, we can help you every step of the way as you navigate your injury claim by:
Answering your questions and reviewing your case in a free consultation
Conducting an independent investigation to determine the potential value of your case and identify all possible sources of compensation
Obtaining valuable evidence to prove your injuries and support your case
Communicating with insurance companies and other parties on your behalf
Interviewing witnesses and reliable experts for compelling case testimony
Managing important case documents and filing deadlines on your behalf
Negotiating aggressively to maximize your compensation at every stage
Contact a Fire and Burn Injury Lawyer Today
If you have been injured in a preventable fire in Kentucky, do not hesitate to contact the fire and burn injury lawyers of Sampson Law Firm. Call us today at (502) 584-5050 or fill out our online contact form to discuss the details of your case with us in a free strategy session.